Welcome to our Marketplace - a collection of used goods and machinery being sold on an 'as is' basis. Please contact the office (09 438 3296) for more details or to arrange inspection.
Onan Genset 21.5 kW MDKDR
Was used in a boat with electronic propulsion, so has been kept at a good load. Only 2500 hours. Includes a sound shell.
Sell as is for $12,000, or talk to us about giving it a spruce up.
Lathe
Cardiff (UK)
3-phase, 27 - 757 rpm, 6' bed length, 30" diameter
$500 ono
Volvo MD2040 diesel engine.
Was the good engine in a catamaran, whose owner decided to re-power after the other engine stopped working.
Can be seen running in the workshop.
$2000
Collection of new and used bronze propellers.
New
15 x 10 left hand, 1 1/8" shaft, 3 blade
17 x 14 right hand, 1 1/2" shaft, 3 blade
18 x 11 left hand, 30mm shaft, 3 blade
20 x 23 right hand, 1 3/4" shaft, 4 blade
Used
15 x 10.5 right hand, 1" shaft, 3 blade
22 x 19 left hand, 2 1/4" shaft, 4 blade
24 x 18 left hand, 2" shaft, 3 blade
31.5 x 37.5 right and left hand pair, 3" shaft, 4 blade
Assorted pneumatic and hydraulic components
Rams, motors, box of controllers
Make an offer - prefer to sell as one lot
Kenwood SSB
Was working when it came off the boat
Make an offer
Tie Rod
Connects tiller arms together in twin Volvo DP installation
$100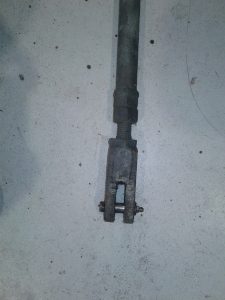 Heat exchanger
For engine driven fridge compressors.
$300