Whangarei Marine Services was formed in 2012 when the Cammell family bought the company known as Ray Roberts Marine. The trading name was well established and the switch to the new name is best described as gradual. The company initially had a total of five employees, and was located in a small shed on site at Riverside Drive Marina.
The company grew quickly in the first couple of years, averaging one new technician a year. This growth meant the company soon ran out of workshop space. The subsequent search for a larger site began in mid 2015, and eventually led to Whangarei Marine Services relocating to the current premises in 2017.
93 Port Road is close to the centre of town, but also has plenty of on and off street parking. The site has a retail shop, a machine shop / workshop, an indoor work area with capacity for two trailer boats, and a large fenced yard. There is a gantry crane in the workshop, and a 2 tonne fork-hoist. Unfortunately while backing onto the river there is no direct water access.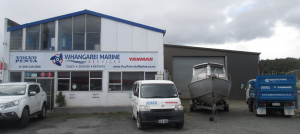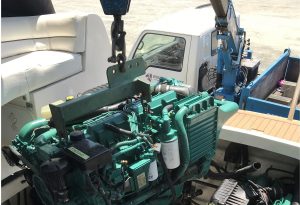 While the facilities are fantastic most work is still performed at the boat, so the company runs a fleet of five service vans. These allow for good coverage across all the haul out yards from Tutukaka to Marsden Cove. The vans are supplemented by a crane truck which provides the capability to lift engines, gearboxes, gensets, batteries and plenty of other items on and off boats.